Gifts That Keep On Giving
Promotional products have the highest advertising reach above any other form of advertising providing exposure each day. In fact, 5 out of 10

consumers stated they come in contact with a promotional product most of the time or at all times per day.
The longer a promotional product is kept, the more impressions it will make on the recipient and anyone else who is exposed to the product. It's important to note that consumers tend to keep promotional products for months, even years! In fact, 81% of consumers keep promotional products for more than 1 year with a majority of consumers keeping a promotional product between 1 and 5 years. Additionally, 8 in 10 consumers choose to pass along a promotional product if they don't keep it for themselves, furthering the brand's reach even more.
How to Choose the Perfect Promotional Product
When it comes to choosing the right promotional product, it's important to understand why individuals choose to keep items for a longer period of time. You want to choose a product that resonates with consumers and is useful to them. Here are a few features that are valued by recipients.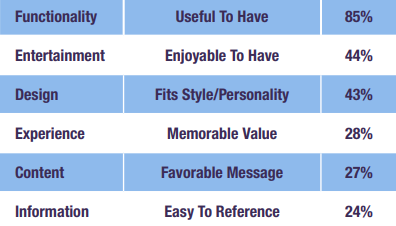 If you're looking for influential products for trade shows, office visitors, and giveaways, consider USB drives or writing instruments. These products are very useful and will generally be kept for a considerable amount of time. If you're looking for employee gifts, you may want to consider outerwear or drinkware.
Don't forget about your customers! The holidays are a great time to show your customers that you care. You may want to choose a gourmet edible gift basket, wine accessories, a high-end bag, or a cool tech gadget. Whatever you choose, make sure it is useful, enjoyable, thoughtful, and memorable.
The experts at RTI understand that choosing the perfect promotional product can be difficult. That's why we are here to help! After listening to your specific needs and requests, we will provide you with different options and see what you like best. Plus, we always strive to meet your budget and deadline. Give us a call today!
Date Posted: 11/26/18
Date Last Updated: 6/13/19
By: RTI Marketing Team