HP All-in-One PC: Safe, Smart, & Secure
Provide the best care possible with the HP EliteOne 800 G4 Healthcare Edition All-in-One (AiO) PC. It is designed for enhanced telemedicine, increased patient safety, smarter workflows, and increased data security. HP is calling the All-in-One PC the "world's first AiO for healthcare."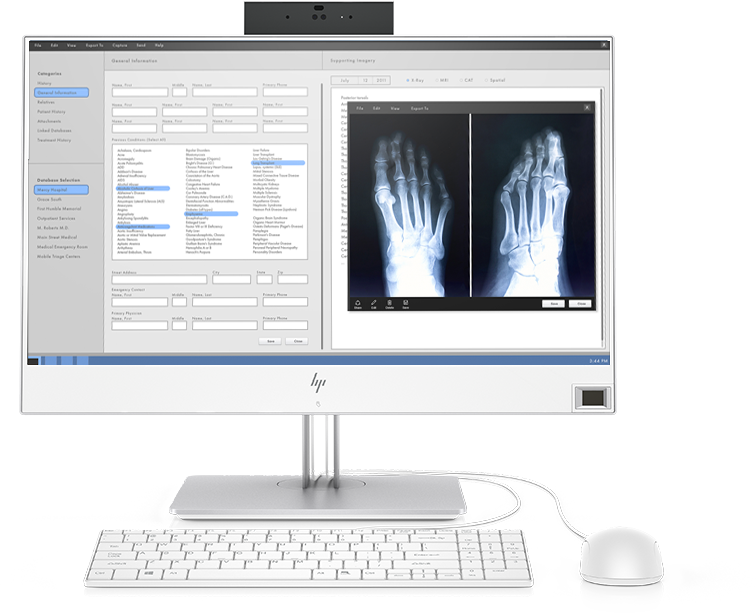 This PC is designed for easy, repeatable sanitization. It can be sanitized with germicidal wipes every shift, every day. Plus, it is certified to meet EN/IEC 60601-1-2 technical standards for safety and performance.
According to the U.S. Centers for Disease Control and Prevention, healthcare-associated infections (HAIs) affect 5 to 10 percent

 of hospitalized patients in the U.S. per year. Approximately 1.7 million HAIs occur in U.S. hospitals each year. Having a PC that can be thoroughly sanitized may help against spreading these infections.
Make logging in quick, easy, and secure with optional integrated authentication features including a dual-band RFID reader and FIPS-201 compliant fingerprint reader for single sign-on.
It is estimated that on average, care providers log in to workstations and applications 70 times a day, which means they are entering usernames and passwords each time. "This tedious process frustrates providers, creates complexity, and obstructs patient care," explains Imprivita. Single sign-on authentication can save providers an average of 45 minutes per shift, per day.
Create an optimal, collaborative telemedicine experience. This PC is Vidyo-ready and Skype for Business® certified. It also features HP Manageability Integration Kit and a dual-facing, pop-camera that will help simplify patient registration and badging. In addition, it offers an enhanced privacy option when the camera's not in use. It provides a robust collaboration experience with HP Audio Boost, HP Noise Cancellation to help suppress background distractions in noisy environments.
Rest assured with this secure All-in-One PC equipped with HP Sure Start Gen4, which automatically self-heals the BIOS from malware, rootkits, or corruption. This feature helps increase security and minimize downtime.
In the 2018 Cost of a Data Breach Report

, IBM and the Ponemon Institute found that healthcare data breaches cost an average of $408 per record, the highest of any industry for the eighth straight year. HP noted that in 2016 over 16 million healthcare records were exposed or stolen. Designed with expanded security measures, the All-in-One PC can help prevent costly security breaches.
8th gen Intel® Core™ processors
23.8″ diagonal FHD display
EN 60601-1-2: 2015 certified for EMI safety
Easily sanitizable with germicidal wipes
Vidyo ready
HP Sure Start Gen4 BIOS security protection
Skype for Business® certified
HP Sure Run app security protection
HP Manageability Integration Kit Gen2
Supports Imprivata, Caradigm, and Healthcast
At RTI, our trained experts are HP Healthcare Certified and can help you achieve efficiency and security. Our advanced healthcare IT solutions help keep you compliant, connected, and secure. With access to the latest healthcare technology, RTI helps solve your specific issues and ensures all your requirements are met.
Date Posted: 10/17/18
Date Last Updated: 6/13/19
By: RTI Marketing Team