Deciding between laptops vs. desktops for your business can be difficult. While laptops are becoming very popular due to mobility, a desktop computer might be a better fit for your business, depending on your needs. There are a lot of factors to consider, but the main ones are mobility, price, and power.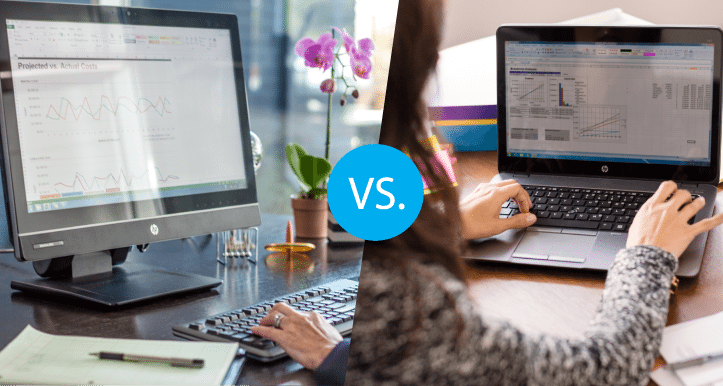 One of the biggest advantages of laptops is the mobility that they offer. For this reason, laptops are probably the best choice for highly mobile professionals. Having a lightweight, slim computer to take on the go is perfect for people who need to work on the road. However, keep in mind that laptops have more potential for damage, as they are moved around on a regular basis.
For employees who need to occasionally work from home, a desktop might still be a doable option if they have access to work files on cloud storage and a computer at home. If this is the case, then employees can access their work files easily from home.
Another big determining factor is price. Depending on your needs, a desktop computer might be cheaper than a laptop. Plus, when comparing a similarly priced desktop and laptop, the desktop will more than likely have more processing power. This means a faster and better experience for the user. An important thing to keep in mind when looking at the price of a desktop: you'll need to buy multiple accessories. It's crucial to factor in the price of a monitor, mouse, keyboard, and other accessories that employees might need (like a webcam). Whichever way you're leaning, be sure to compare the overall cost of the devices you're considering.
As we mentioned above, desktops usually offer more power for your money. Having a faster processor and more RAM allows you to handle larger workloads. Plus, you can easily add a powerful graphics card to a desktop, which will probably be necessary for certain tasks, like video editing. 
You'll need to determine how much power your business tasks will require. Will some employees only need to check email and edit documents? If employees don't have demanding workloads, then a laptop can probably provide all the power they need.
Other factors to consider are the potential need to upgrade and the ease of repairs. Desktops are generally easier to upgrade and easier to repair.  Upgrading your memory or processor is much easier to do on a desktop than on a laptop. Because of the way most laptops are built, it isn't easy to upgrade hardware. Likewise, desktops are generally easier to repair than laptops, which means that desktop repairs are usually cheaper than laptop repairs.
Both laptops and desktops have their advantages and disadvantages, but taking into account the factors of mobility, price, and power will help you in your decision-making process. Still not sure which is the right fit for your organization? The experts at RTI can listen to your needs and help find the best solution for your specific requirements. Contact us today!
Date Posted: 2/13/19
Date Last Updated: 6/17/19
By: RTI Marketing Team