Microsoft recently released Windows 11! It boasts a new design and numerous new features that can help you be more productive and creative. Windows 11 started becoming available to eligible devices on October 5; however, Microsoft is releasing the update in phases, so not everyone will have access to the upgrade at first. Users will be notified when the update is available for their device. You can also download Windows 11 directly from the Microsoft site.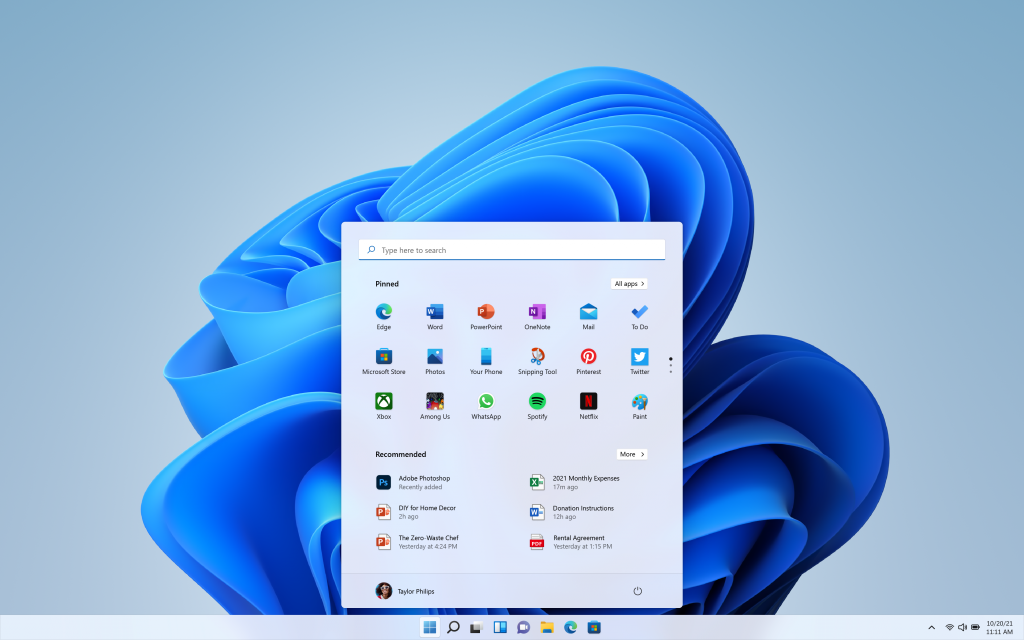 In order to update to Windows 11, your PC must meet certain minimum system requirements.

Processor: 1 gigahertz (GHz) or faster with 2 or more cores on a compatible 64-bit processor or System on a Chip (SoC).
RAM: 4 gigabytes (GB)
Storage : 64 GB or larger storage device
System firmware: UEFI, Secure Boot capable
TPM: Trusted Platform Module (TPM) version 2.0
Graphics card: Compatible with DirectX 12 or later with WDDM 2.0 driver.
Display: High definition (720p) display that is greater than 9" diagonally, 8 bits per color channel.
Internet Connection and Microsoft Account: Windows 11 Home edition requires internet connectivity and a Microsoft account. Switching a device out of Windows 11 Home in S mode also requires internet connectivity.
Whether you have already updated to Windows 11 or you're waiting for your turn, learn more about Windows 11 and its new features!
One of the biggest changes of Windows 11 is the fresh, streamlined look with rounded corners and pastel shades. Plus, the Start menu and taskbar are now in the center of the screen. The Start menu is now "cloud powered," so it dynamically changes depending on the time of day and the content you're working with.
According to Microsoft, "Start utilizes the power of the cloud and Microsoft 365 to show you your recent files no matter what platform or device you were viewing them on earlier, even if it was on an Android or iOS device."
You are able to move the Start menu back to the left if that's what you prefer.
One of the features of Windows 11 is the introduction of Widgets, which provides at-a-glance information on a customizable feed. Widgets are powered by artificial intelligence and slide out to show you glimpses of recent photos, news, weather, and your calendar. Similar to the Start menu, they will change depending on the apps you're using and the time of day.
You will find a button for Widgets on your taskbar. When you click it, a panel will slide from the left of your screen. You'll also have the option to expand Widgets to be full screen.
Another new feature of Windows 11 is the ability to access Microsoft Teams directly from the taskbar. Microsoft's video chat platform is now directly built into the operating system for easier and quicker access.
Windows 11 is also bringing Android apps to Windows for the first time. You'll be able to discover Android apps in the Microsoft Store and download them via the Amazon Appstore. This new feature will be available soon, and Microsoft will be sharing more about this in the near future.
Snap Groups, Snap Layouts, & Desktops
Windows 11 also introduces Snap Groups and Snap Layouts to help users multitask and be more productive. These new features allow you to organize your windows so that you can see a collection of the apps you're using.
Snap Layouts gives you the ability to arrange windows in different layouts on the screen—and not just side by side. You can also arrange windows in sections, columns, and more. Then your windows will be saved in that arrangement. 
Snap Groups is an extension of Snap Layouts, in which Windows remembers the apps you've been using and allows you to group them together. Then you can minimize or maximize open windows as a group.
With Desktops, you can create and customize separate Desktops for different areas of your life. You now have the ability to create different Desktops for work, personal use, school, gaming, and more.
If you have any questions about Windows 11, whether your systems meet the minimum requirements for the upgrade, or how the upgrade will affect your organization, give the experts at RTI a call! We can help your organization navigate these changes smoothly and efficiently.
Date Posted: 11/5/21
Date Last Updated: 11/5/21
By: RTI Marketing Team