Having slow Internet can be frustrating to say the least. Whether you're trying to stream movies or download documents, the last thing you want to see is a buffering symbol. Before you throw your laptop at the wall or your router out the window, check out our tips for ensuring a strong Wi-Fi signal and speeding up your Wi-Fi throughout your office or home.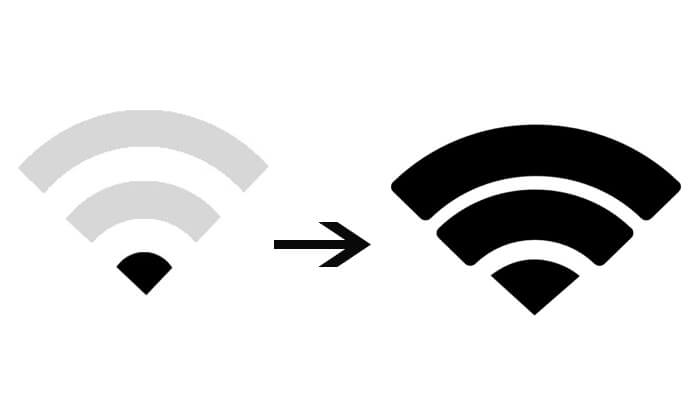 The location of your router makes a big difference, so adjusting the height and location of your router could impact its performance. Walls, floors, and other physical barriers can affect your wireless signal, as does the distance between the access point and the device. A slow Wi-Fi connection could be due to physical obstacles and electronic interference, as well as the number of users on the network. The ideal location for your router would be a centralized location in an open area. Try to keep it away from other electronics (baby monitors, microwaves, etc.) and raise the router away from the floor. You can also try pointing the antennas perpendicularly, one pointing vertically and the other positioned horizontally.
2. Use the Latest Hardware
Because technology changes at a rapid pace, it's important to use the latest hardware if you want a fast Wi-Fi connection. If you have an old router, upgrading it can make a big difference. For example, Wireless-AC (802.11ac) is a newer and faster technology, while Wireless-G (802.11g) is slower and older. The newer routers will have faster data transfer speeds and dual-band functionality, which offers more range, bandwidth, and stability than singe-band routers. 
With dual-band functionality, you will have both 2.4 GHz and 5 GHz frequency bands. In general, 5 GHz provides faster data rates at a shorter distance, while 2.4 GHz offers further coverage at slower speeds. Some devices may be better suited for one frequency band over the other; you can free up channels by selecting different devices for each frequency band. Another tip is to ensure your router's firmware is up to date. The latest updates can be downloaded from the manufacturer's website.
3. Choose a Different Channel
Many routers will automatically detect the least crowded channel and make it the default channel. However, if you live in a crowded building or neighborhood, the channel can get congested. Choosing a different channel can help cut down on interference, which can help speed up your connection. You may find that some channels are less congested than others, so it's worth looking into. Using tools like Wifi Analyzer or WifiInfoView can help you analyze nearby wireless signals and find which channel will give you more bandwidth and speed.
Although it may be obvious to some people, it is important to secure your Wi-Fi network with a password. Otherwise, your neighbors will be able to use your wireless connection to download files or stream movies, which will dramatically slow down your connection. You can set a password by logging in to your router's admin or configuration page. Many times, this can be accessed by typing in the router's IP address in a web browser.
5. Get a Wireless Range Extender
A Wi-Fi extender works by repeating the wireless signal from your router, which expands its coverage. An extender can help capture and boost the signal into areas where Wi-Fi is weak or nonexistent. This can be especially helpful in large homes/buildings and areas with physical structures that can impede a signal.
6. Contact Your Internet Service Provider (ISP)
If all else fails, contact your ISP. They can ensure that you're paying for the speed you need, plus they might have additional insight and advice for speeding up your Wi-Fi.
Date Posted: 12/11/18
Date Last Updated: 6/13/19
By: RTI Marketing Team