New Immersive Technologies
Immersive technology and mixed realities are changing the way we live, the way we do business, the way we shop, and the way we learn. You've probably heard about the growing popularity of augmented reality (AR) and virtual reality (VR). In fact, the worldwide market size of augmented and virtual reality is expected to grow to $192.7 billion

by 2022. And then there's mixed reality (MR) and the new extended reality (XR).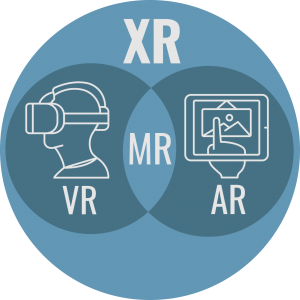 Here's a summary of the differences between these immersive technologies: 
Augmented Reality: A technology that augments a real-world environment and blends it with interactive digital elements (graphics, sound, touch).
Virtual Reality: An interactive, computer-generated virtual environment that can be interacted with in a seemingly real or physical way through a headset.
Mixed Reality: The merging of real and virtual worlds to produce new environments that allow physical and digital objects to interact with each other in real time.
Extended Reality: An umbrella term that encompasses all computer-generated environments that either merge the physical and virtual worlds or create an entirely immersive experience; it encompasses all realities (360-degree video; augmented, virtual, and mixed realities).
How Extended Reality Is Transforming Industries
Extended reality offers new opportunities that simply weren't available before by bridging the distance between people, information, and experiences. Businesses can use extended reality to boost productivity, help with training, and provide immersive customer experiences. There is so much potential for extended reality. Here are some examples:
Entertainment: VR headsets allow users to virtually experience various events and places, from museums to sporting events. As of right now, video games are the biggest consumer of extended reality technology.
Education: Extended reality allows students to visualize and interact with objects and concepts that the typical classroom simply can't provide, which helps students learn about complex concepts in a new and engaging way. zSpace is a great example of how extended reality is being successfully used in education.
Training: Extended reality offers training for complex experiences, which reduces risk and costs. People who work in high-risk conditions, from pilots to surgeons, can safely receive training with no repercussions to machinery, patients, or to the user.
Marketing: Virtual reality has provided new opportunities for customers to interact with products and brands.
Remote Work: By eliminating distance barriers, extended reality allows remote employees to easily collaborate with coworkers and access data from anywhere in the world.
Can Extended Reality Benefit Your Organization?
Extended reality is already providing valuable benefits to a variety of organizations, from businesses to schools. As with all new technologies, it's best to weigh the pros and cons for your specific organization. Do your research, consider the risks and investment, and account for the benefits it could provide!
Date Posted: 3/7/19
Date Last Updated: 6/17/19
By: RTI Marketing Team