Gaming requires serious computing power that won't hold you back. With competitive video gaming, like eSports, becoming more popular, gamers continue to search for cutting-edge hardware and top performance.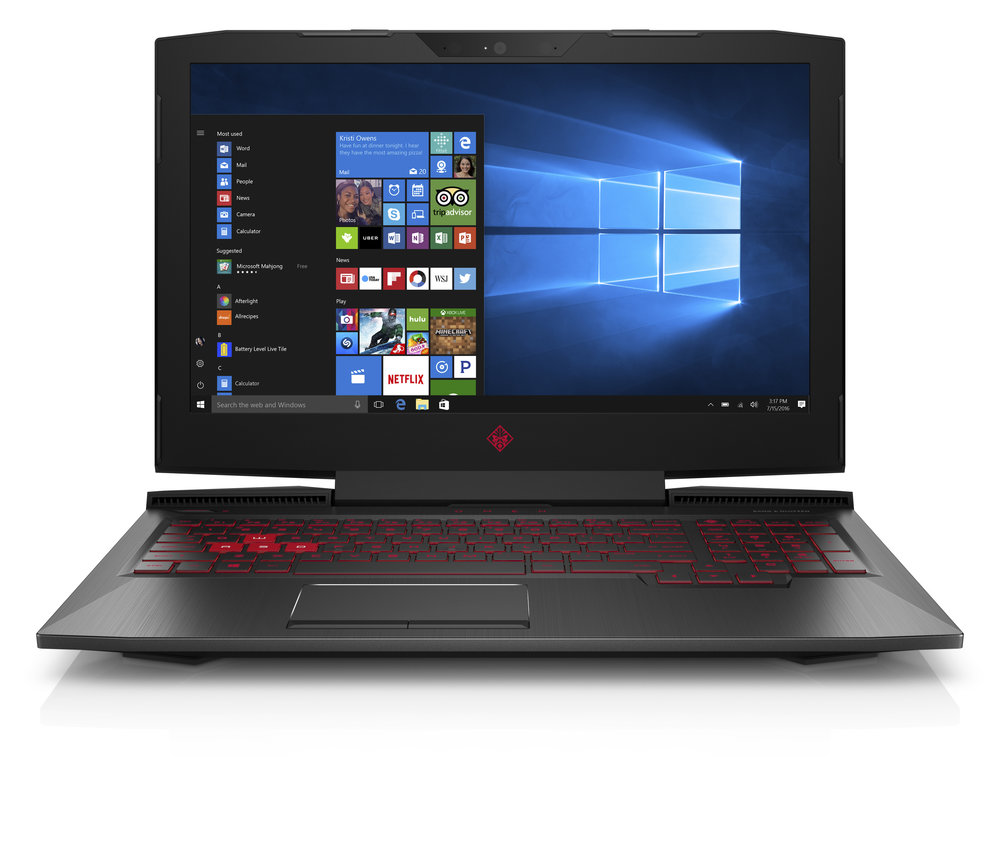 Did you know that HP has a full line of gaming gear? From PCs and monitors to accessories, the innovative OMEN gaming line is designed to provide the performance that competition requires. Whether you're an eSport athlete or a competitive gamer, the OMEN series will give you the edge and confidence you need to win, time and time again.
If you're looking for advanced hardware and upgrade options, look no further. Whether you're looking for a desktop or portable laptop, the OMEN series offers a wide range of options. You can even customize your PC to fit your specific needs! From more storage and memory to the industry's latest graphic cards, upgradability has never been so easy.
OMEN 15 and OMEN 17 laptops: Offer the latest high-performance graphics from NVIDIA® and high-resolution displays with optional G-Sync™ technology for fast refresh rates and a single-access service panel.
Perfect for players of eSports and VR enthusiasts, the OMEN X Compact Desktop was built with the highest performing parts available with an easily transportable and adaptable system. Whether you want a flawless VR experience or the horsepower needed for gaming at 4K resolutions, the factory-overclocked NVIDIA® GeForce® GTX 1080 will get the job done.
No matter your budget, the HP OMEN line has a monitor that's sure to fit your needs. They have a variety of monitor options that deliver fast refresh rates, incredible immersion, and amazing clarity. If you're looking for a top-notch monitor, the OMEN X Emperium 65 Gaming Display has stunning 4K HDR visuals, NVIDIA® G-SYNC® HDR, and blazing-fast refresh rates. 
The gaming experience wouldn't be complete without accessories. From keyboards to headsets, HP offers a large variety of accessories within its OMEN gaming line.
Now you can concentrate on the win with the OMEN Mindframe Headset, the 

world's first headset with active ear cup cooling technology. Designed with comfort in mind, this headset offers ultimate immersion with an

 in-game soundscape through 7.1 virtual surround sound.
Want to give a desktop-level boost to your laptop? The OMEN Accelerator Shell is just what you need. It can easily fit the industry's latest graphics cards and storage solutions, plus it has powerful Thunderbolt™ 3-certified USB-C™ connectivity that delivers gaming power and charges your notebook from just one port.
The OMEN X Desktop VR Backpack takes immersion to a whole new level by offering uninterrupted, seamless gaming. It allows you to untether from your desk, roam freely, and step into the future of virtual reality.
Designed to help you reach the next level, the HP OMEN series offers performance that's sure to astound. Gaming requires some serious computing power that companies like RTI can provide through HP gaming solutions. With HP's next-level equipment, you get the performance that competition requires, professional-grade accessories, innovative new form factors, and cutting-edge hardware with power that won't hold you back. Call us today to learn more!
Date Posted: 3/21/19
Date Last Updated: 6/17/19
By: RTI Marketing Team