zSpace is a mixed reality hardware and software platform that allows users to interact with computer-generated objects in a three-dimensional environment, often likened to virtual reality (VR) or augmented reality (AR). zSpace is haptic-enabled, uses virtual and augmented reality, and is three-dimensional.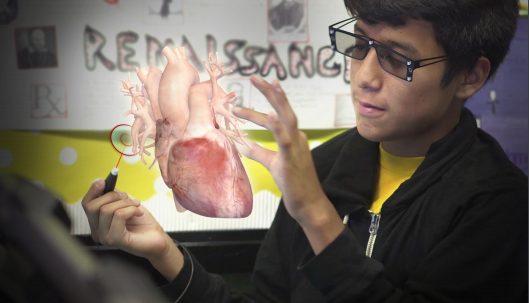 Haptic-Enabled (HE): Tactile feedback that replicates the sense of touch.
Virtual Reality (VR): Artificial or virtual environments that simulate physical presence.
Augmented Reality (AR): The blending of interactive digital elements (sound, touch, and graphics) into real-world environments.
Three-Dimensional (3D): Rendered images with the perception of depth. 
Perfect for K-12 education, zSpace encourages students to explore and experiment in a tangible way. It engages students in standards-based learning experiences that align with a teacher's curriculum and helps students construct knowledge and understanding of concepts across multiple curriculum areas with a strong focus on STEM subjects.
There are a variety of benefits to using zSpace in the classroom, including tailored learning for complex concepts, more opportunities and less roadblocks, and confidence building through mistakes.
Tailored Learning for Complex Concepts
Educational research has found that virtual environments convey a rich and robust experience that is both lifelike and engaging to the user. It allows students to fully experience STEM content like never before. They can visualize and interact with objects and concepts that the typical classroom simply can't provide. Because of this, zSpace helps students learn about complex concepts in a new and engaging way. Plus, this technology can be tailored to individual needs and interests.
More Opportunities, Less Roadblocks
With virtual learning, the roadblocks of cost, danger, and impracticability are removed. Learning through virtual reality provides a powerful opportunity for students to engage in potentially hazardous training situations with no repercussions to live specimens, patients, or to the user. Students can dissect, analyze, and explore hundreds of objects, creating experiences that might only be possible through virtual reality.
Building Confidence Through Mistakes
zSpace provides students with opportunities to experience and recover from controlled failure, which helps students build confidence and skills without fear of accidental harm. Most people try and avoid making mistakes, especially in front of their peers. But psychologists are finding

that there are benefits to making mistakes: "Making a mistake with high confidence and then being corrected is one of the most powerful ways to absorb something and retain it."
zSpace provides an environment where actions can be reversed with the click of a button. It is teaching students to worry less about getting things right the first time. When students are less concerned about making a mistake, they become confident and fearless learners who try new things and continuously learn. In fact, research has found

that both students and teachers experienced significant learning gains after using zSpace.
If you're curious if zSpace would benefit your school or classroom, give the experts at RTI a call! We have helped numerous schools take advantage of the many benefits of zSpace. Plus our experts offer customized training for teachers and instructors in which they walk through the numerous applications and demonstrate how to operate the system. Our goal is to make sure zSpace fits the learning needs of all students and teachers.
Date Posted: 12/3/18
Date Last Updated: 6/14/19
By: RTI Marketing Team