The World's First AR/VR Laptop
zSpace recently introduced the world's first AR/VR laptop: "The laptop learning environment comes to life, allowing students to lift images from the screen and examine them in detail, gaining a deeper understanding of concepts by physically manipulating virtual simulations, from energy and motion to molecules and organisms."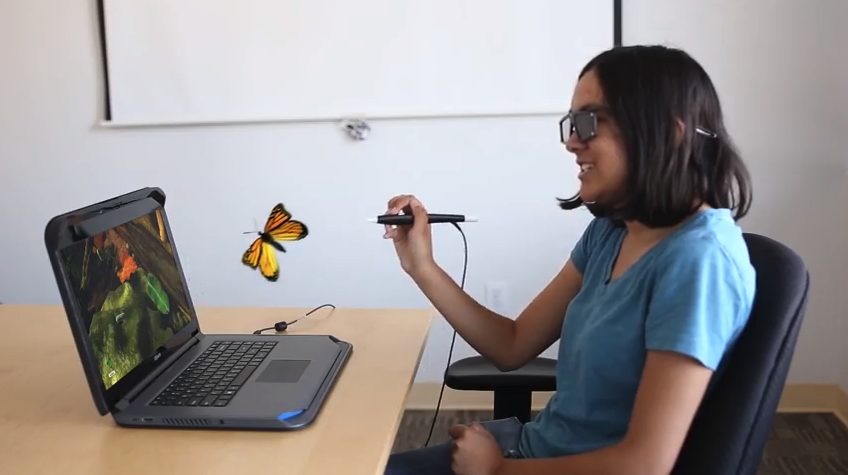 While the laptop is equipped with mixed reality capabilities, it is also a fully functional laptop, allowing students to explore the Internet and work on assignments. The laptop allows for flexibility within schools, as it is a portable unit that can be easily transferred from room to room. zSpace offers numerous benefits for students, including tailored learning for complex concepts and opportunities that may otherwise be impossible. While virtual training can't always be a substitute for working with real materials, it is a great way to expose students to hands-on practice before they attempt the real thing.
Most virtual reality solutions, like the typical VR headset, are isolating and only intended for one person at a time. However, the zSpace is a mixed reality technology that offers an immersive experience and collaboration among students. The user wears Tracked Glasses, which provide a complete experience, while others can wear Follower Glasses, which allow peers to participate. This collaboration encourages students to solve problems as a team and creates opportunities for conversation, which in turn, helps prepare students to be contributing team members in the future workplace.
"When students put on a VR headset and take a field trip or explore human anatomy, they are having an individual experience. It doesn't encourage making connections, creativity or collaboration. zSpace was created specifically for learners, creating a shared AR/VR learning environment," said Paul Kellenberger, CEO, zSpace. "Today's launch of the zSpace Laptop takes that experience to the next level, moving our comfortable, interactive learning experience to the accessibility and affordability of the mobile platform."
The zSpace laptop comes with several built-in applications with the option to purchase more. A few of the applications include:
zSpace Studio:

 A

 model rich with exploration and presentation tools that allow students to compare, dissect, analyze, measure, and annotate thousands of 3D models from the zSpace Model Gallery.

Newton's Park:

 A

llows students to run or create their own experiments to deepen their knowledge of Newtonian Mechanics. Students can build simulations while interacting with data.

Franklin's Lab:

 G

uides students through electricity concepts and troubleshooting faulty circuits. Students can follow guided activities and repair broken switches and motors in Workbench mode.

Curie's Elements:

 A

llows students to explore a periodic table with Bohr and atomic models for each element. Students can also build elements by adding protons, neutrons, and electrons.
If you'd like to learn more about zSpace, give us a call! Our zSpace experts can help you determine if zSpace would benefit your school and which applications would fit your students' needs best. Plus, we can assist with implementation, installation, and professional development.
Date Posted: 12/4/18
Date Last Updated: 6/14/19
By: RTI Marketing Team