National Cybersecurity Awareness Month
October is National Cybersecurity Awareness Month. Although cybersecurity is important all year round, we are still going to take the opportunity to share a few tips on how you can remain aware and involved.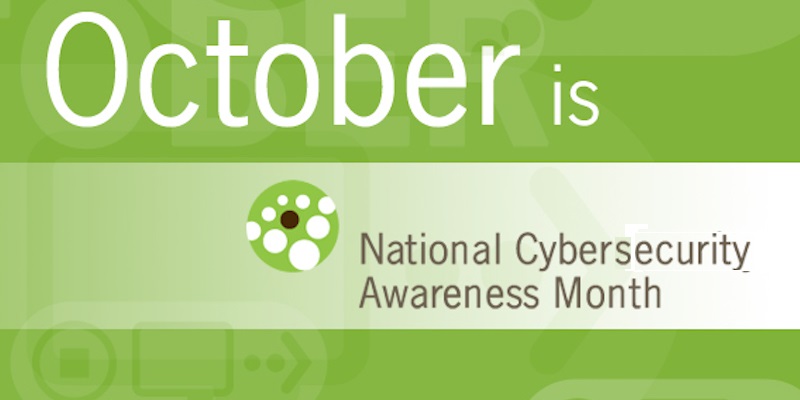 1. Passwords and Multi-Factor Authentication
In order to protect your personal information, it's important to create strong passwords and use different passwords for each account. If you have trouble remembering your passwords, you might consider using a password manager that encrypts and stores all of your passwords.
Did you know that sometimes a password isn't strong enough to protect your important accounts? This is why it's important to use multi-factor authentication when it's available. Multi-factor authentication is an added layer of security that requires your password and one extra step for logging in. This extra step could be scanning your fingerprint on your phone or using a single-use code that's sent to your cell phone.
2. Keep Security Software Up to Date
Having outdated security software can put your personal information at risk. Cybercriminals are always looking for new vulnerabilities in software, so that they can exploit this weakness with malware. Software companies will release updates or patches that you should install as soon as possible. By keeping your antivirus software, firewalls, and systems up to date, cybercriminals will have a harder time hacking into your systems.
Hackers often use social engineering tactics to take advantage of people and steal their personal information. It's important to become familiar with the common signs of social engineering, so that you're less likely to become a victim. Here are a few tips:
Slow Down: Always be skeptical of messages or requests that convey a sense of urgency. Hackers are hoping to distract people with urgency, so always think carefully before acting or fulfilling any request.
Always verify requests: Especially if the request appears to be coming from your bank or if someone is requesting your personal information. You should directly call the organization, and ask if the request is legitimate.
Be suspicious: If something sounds too good to be true, it probably is.
Never click on unsolicited emails or suspicious-looking links: Hackers may send links that lead to malicious websites or links that will download malicious software onto your computer.
By educating yourself and staying alert, you're much less likely to become a victim.
4. Think Before You Connect
Using available Wi-Fi hotspots in public places can put your information at risk. You should limit the type of business you conduct in public places, such as accessing your bank account. You can also adjust the security settings on your device to limit who can access your machine. Another good option is using a personal VPN client, which uses encryption to protect the network traffic entering or leaving your computer. This roadblock can help prevent a hacker from accessing your computer.
5. Educate Educate Educate
Because cybersecurity is constantly changing, it's essential to stay up to date on the newest threats and the latest methods that can help protect your personal information. If you're part of an organization, such as a business or school, it's important to educate your employees or students. Teaching employees about the importance of cybersecurity and keeping them up to date on the latest threats is a great start. You can also teach employees how to recognize phishing emails and remind them to be suspicious when it comes to links and unsolicited emails. Security awareness training can go a long way in helping prevent attacks.
For more information about cybersecurity, check out our free cybersecurity white paper!
Date Posted: 10/1/18
Date Last Updated: 6/13/19
By: RTI Marketing Team