Managed Print for Healthcare
Cybercrime is on the rise for organizations around the world, including the healthcare industry. According to the Protenus 2019 Breach Barometer, fifteen million patient records 

 were breached during healthcare data breaches in 2018, nearly triple the amount of reported incidents in 2017.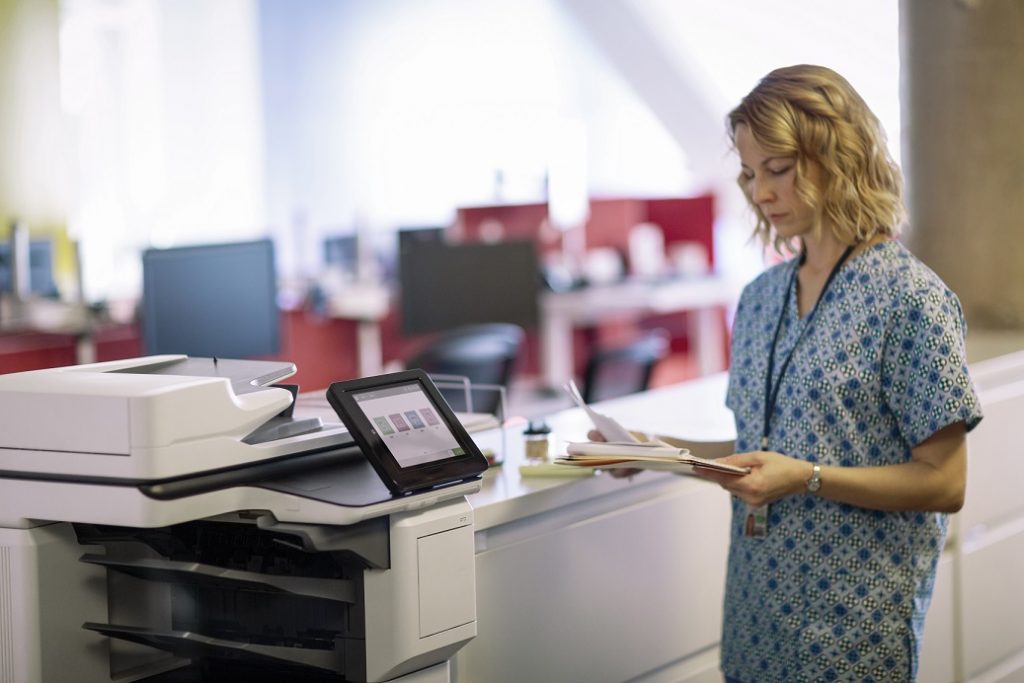 Many organizations often overlook a major security threat—printers. Managed print services (MPS), or the efficient management of printing and imaging, can benefit healthcare organizations by increasing security, reducing print costs, streamlining document workflow, preventing downtime, and maintaining compliance related to printing—all while improving employee satisfaction and patient care.
The average 1,500-bed hospital prints more than 8 million pages per month

, according to CynergisTek. With an average cost of four cents per printed page, the costs add up to about $3.8 million per year. And that's just the cost for the printed page; it doesn't take into account printer maintenance, supplies storage, IT support, procurement and administration, power consumption, or waste.
Realizing the full cost of printing requires more than looking at visible hard costs. It requires an understanding of management, support, and processes. A managed print provider can help healthcare organizations determine how much they are currently spending on print and then help reduce those costs by up to 20-30%. Plus, most providers partner directly with print supply manufacturers, which means they can offer better pricing on printers and print supplies.
Increase Security While Meeting Compliance
Keeping patient records secure is top of mind for healthcare organizations. Through regular monitoring and automatic detection of cyberattacks, an MPS provider can help improve the security of devices, data, and documents. From secure mobile device printing and data encryption to user authentication, there are a variety of solutions that a provider can help implement to mitigate printing risks. A provider can also help reduce the risks associated with compliance and regulations. Healthcare organizations can rest assured that they are printing according to HIPAA compliance requirements.
Improve Workflow Processes
An MPS provider can improve document workflow within a healthcare organization to streamline processes, reduce costs, and increase productivity. Changing simple processes can dramatically improve document workflow and management, including automating everyday operations and routing certain print jobs to designated printers.
By providing preventative maintenance, MPS providers help prevent costly downtime. Providers have technicians who clean the devices, replace worn parts, and assess the overall health of each device. If organizations run into issues, the provider's help desk or onsite support will quickly get the device back up and running. This also helps reduce the burden of print management from an IT staff's load. By taking care of supplies management and preventing issues through regular printer maintenance, an MPS provider frees up hospitals and medical facilities to focus on patient care.
Healthcare organizations don't have to struggle alone with rising print costs, regulatory requirements, and security issues. As a trusted managed print provider, Riverside Technologies, Inc. can help hospitals and other healthcare organizations reduce print costs, safeguard patient data, and meet HIPAA compliance. Talk to one of our experts today to learn how we could help your organization!
Date Posted: 5/30/19
Date Last Updated: 6/17/19
By: RTI Marketing Team