Recycling your empty ink and toner cartridges is an easy way to help improve the environment and reduce waste. Recycling print cartridges reduces air and water pollution associated with landfilling, helps save energy, and conserves natural resources. Whether you're a business, library, school, or homeowner, we can all do our part by recycling printer cartridges.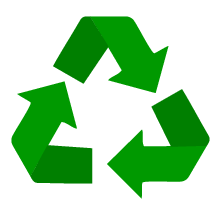 Cartridges are not easily degradable. In fact, it can take 1000 years

 for a print cartridge to fully decompose in a landfill. Unfortunately, 60 to 80% of all used toner cartridges are put into the trash and end up in a landfill. Properly recycling your used printer cartridges is crucial! Every year, 350 million print cartridges end up in landfills. You can make a difference and help reduce our carbon footprint.
By recycling used printer cartridges, we conserve energy and natural resources by reducing the need for raw materials to manufacture new ones. For every 100,000 recycled print cartridges, we can save 9599 kilograms of aluminum; 40 tons of plastic; and 1,000,000 liters of oil. Almost all of the materials that make up a printer cartridge can be either recycled or reused.
How to Recycle Used Printer Cartridges
There are a variety of different ways to recycle your used printer cartridges. Here are a few options:
One easy option is to drop cartridges off at your local office supply store. Many office supply retailers (Staples® and Office Depot®) will gladly take your used cartridges. Simply give them a call or check their website to see if they accept ink and toner cartridges.
You can also find a local recycling facility by visiting Earth911.com , entering the material you need to recycle, and typing in your zip code. The website will show a list of recycling locations in your area.
An additional option is looking into a program that gives you money back or donates money to charity for recycling cartridges. Evolve Recycling will pay organizations for empty printer cartridges, while Cartridges for Kids allows you to give your earnings to an organization or charity. Keep in mind that many companies only accept original manufacturer cartridges in good condition.
Lastly, you can look into refilling your original brand ink cartridges. Many cartridges can be refilled an average of 4-6 times before needing to be recycled.
How HP Is Making a Difference
HP's industry-leading recycling program, HP Planet Partners, provides people with an easy way to recycle their Original HP ink and LaserJet cartridges and Samsung toner cartridges for free. No Original HP cartridges returned through HP Planet Partners are ever sent to a landfill, plus many of these materials are used again. All Original HP ink and toner cartridges returned to HP Planet Partners go through a multi-phase, closed loop recycling process. During this process, the materials are separated and refined for use as raw material in new HP cartridges.
HP offers several convenient return options. You can either drop off your used cartridges at any HP Authorized Retail Collection Location

, use the free in-box label that ships with every new HP LaserJet toner cartridge, or order other free recycling materials at hp.com/recycle

.
Date Posted: 1/17/19
Date Last Updated: 6/14/19
By: RTI Marketing Team